THREE Blushes are made in Japan and no perfume.
THREE Cheeky Seek Blush
Powder Blush.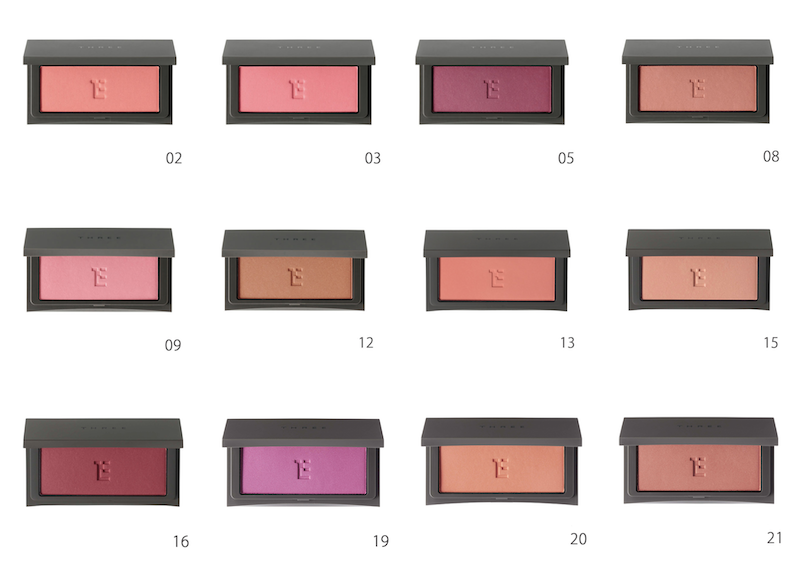 02 SWEET REVOLUTION
03 SACRED DIMENSIONS
05 FEELING THE FLOW
08 ETERNAL TRAVELLER
09 SOUND SO SWEET
12 RISE ON A WAVE
13 SHE COMES IN COLORS
14 BEAT OF HER HEART
15 SWEET CHILD
16 SISTER OF NIGHT
19 COLOR POWER
20 CRYSTAL CLEAN
21 CRYSTAL CLEAR
#19-#21 are new for AW2019. We accept your pre-order until 7th of Aug.
JPY4490
THREE Epic Mini Dash
Liquid Blush with applicator. It also work as your liquid lips.
01 NA:STAR CHILD
02 BG:GENERATION OF LOVE
03 B:TONGUE IN CHEEK
04 D:LOVE REACTION
05 MM:HOT STUFF
06 JL:#9 DREAM
07 BM:JAMMING
11 STATE OF GRACE
12 LARK SONG
JPY4490
---