Shiseido Benefique Genius line
Shiseido Benefique is one of the best sold brand in Japan.
Benefique Genius are special care products among Benefique brand.
There are perfume.
As we know Shiseido Benefique Genius line is made in Japan.
Benefique Mask Power Repair
Best selling sheet mask for us
23ml x 6 sheets
JPY13,000
Benefique Hydro Genius
Essence
50ml
Refillable design
Apply this essence after of your lotion, before of emulsion/ cream
For moisturising, ageing care, and smooth skin
In person, it is a light texture but moisturized well, the scent is also nice. I liked it but it does not promising this does fit to you.
50ml full bottle: JPY 14,660
50ml refill: JPY14,160
Benefique White Genius (medicated)
Essence
45ml
Refillable design
Apply this essence after of your lotion, before of emulsion/ cream
For brightening, moisturising, ageing care, and smooth skin
Brightening factor: 4MSK, Tranexamic acid
45ml full bottle: JPY 14,660
45ml refill: JPY14,160
Benefique Retino Lift Genius (Medicated)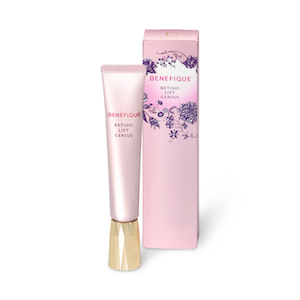 Eyecream
20g
For wrinkles, brightening, and ageing care
Brightening factor: Tranexamic acid
Wrinkles/ Ageing Care factor: Retinol
JPY 12,890
Benefique Repair Genius
All in one product for your special care
1ml x 12 package
Apply this product after your night face wash. Spread whole of your face and 30 mins later, it will be smoother. You do not need to rinse/ wipe until morning.
New for SS2018, the sales day: 21st of July, 2018
JPY9,600
---